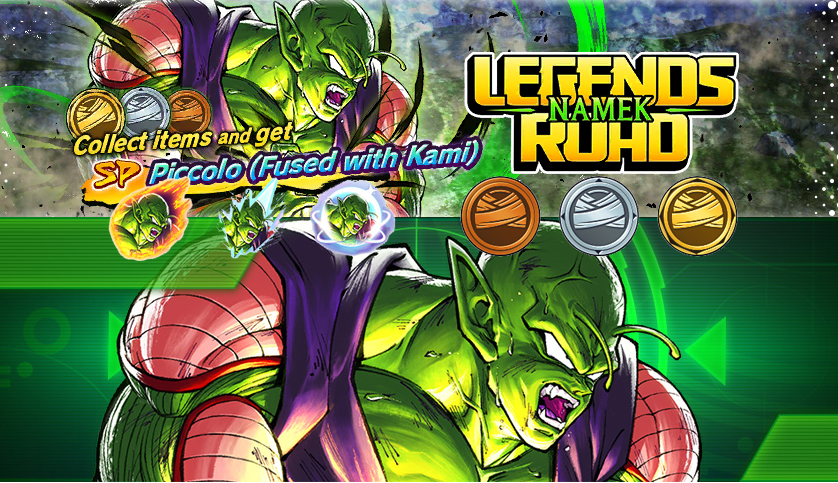 DB Legends, disponibile Legends Road Namek
Arriva l'aggiornamento settimanale per il famoso videogioco Dragon Ball Legends per dispositivi mobile Android e iOS.È possibile scaricare la versione Android dal PlayStore. Andiamo a vedere di quali aggiornamenti si trattano.
Legends Road – Fused with Kami Piccolo
Periodo dell'evento:
dal 21 agosto al 11 settembre 2019
Affronta le battaglie in questo evento per guadagnare le medaglie e scambiarle poi al negozio dedicato all'evento. Se si utilizzano personaggi Legends Road, Namekkiani o da Rigenerazione si può ottenere dei bonus in battaglia.

I bonus in battaglia hanno un danno molto più alto dei personaggi normali, soprattutto se si utilizzano personaggi Namekkiani.
L'ideale appunto è creare una squadra con Namekkiani, Legends Road e da Rigenerazione, così da avere il maggior Bonus in Battaglia.
Come premio abbiamo un personaggio esclusivo dedicato all'evento, si tratta di Piccolo che si è unito con Kami, il Dio della Terra.
Le medaglie vinte durante le battaglie su possono scambiare al negozio dedicato e ottenere per esempio 100 Z Power del personaggio di Piccolo così da ottenere il personaggio esclusivo dell'evento.
Il ritorno di due eventi di Cell
Ritornano anche due eventi passati della storia originale di Dragon Ball, si tratta di Perfect Cell: the Super Life Form! e Cell: The Ultimate Life Form. E' un ottimo modo per recuperare l'evento se non l'avete completato al primo tentativo.


Dragon Ball Legends è un videogioco per smartphone per i dispositivi iOS e Android. Il gioco è strutturato per combattimenti 1 vs 1, si ha la possibilità di avere una squadra di tre combattenti. Durante il combattimento si hanno a disposizione 4 carte, ogni carta rappresenta una tecnica di difesa o di attacco. Durante il combattimento si possono ottenere le 7 Sfere del Drago, una volta riunite è possibile attivare il Rising Rush.