DB Legends, disponibile Super Space-Time Duel, Level 3.000, Book 5 Part 4
- Pubblicato il 1 Giugno 2019 - 8:50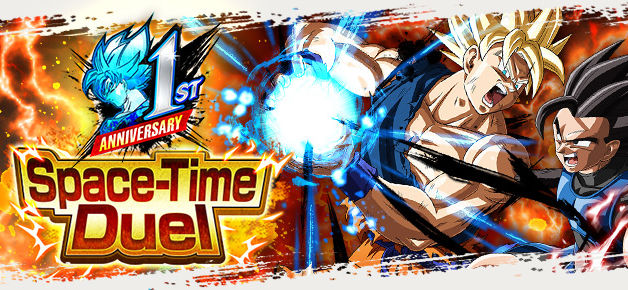 DB Legends, disponibile Super Space-Time Duel, Level 3.000, Book 5 Part 4
Dragon Ball Legends festeggia un anno dalla sua uscita e lo fa aggiornado il gioco alla versione 1.34.0. Con questo aggiornamento sono stati introdotti diversi eventi, campagne e anche miglioramenti all'attuale Game Play. Andiamo a vedere di quali aggiornamenti si trattano.
DB Legends, disponibile Super Space-Time Duel, Level 3.000, Book 5 Part 4 , è possibile scaricare la versione Android dal PlayStore.
The Anniversary Super Space-Time Duel 
Periodo dell'evento:
dal 31 maggio al 12 giugno 2019
Sempre in scia annivesario, ecco il duello competitivo online di Dragon Ball Legends. Affronta altri duellanti come te e vinci interessanti premi, in occasione dell'anniversario le ricompense sono state raddoppiate.
Visto anche l'introduzione del livello 3.000, si possono utilizzare solo personaggi di livello massimo 2.000, se vengono utilizzati personaggi superiori il loro potenziale sarà comunque 2.000.
SHOWDOWN Featured

Periodo dell'evento:
dal 31 maggio al 6 giugno 2019
Summon dedicata alla finale di Las Vegas della settimana scorsa, si possono ottenere i migliori personaggi utilizzati in quella finale. Pronti all'evocazione?
Level Cap will be Raised to 3000
Finalmente è stato introdotta la possibilità di potenziare i propri guerrieri fino al livello 3.000. Per potenziarli bisogna avere a disposizione Rising Soul 6 e Super Soul 5.
Main Story Part 4 Book 5 (NORMAL)

Arriva finalmente la Part4 della Storia Principale del gioco con il titolo di "The Terrifying Super Cell Games", questa volta è il turno di Cell. Il quinto Book si chiama "Limit Breaking Death Match!" e include 8 capitoli.
Shallot Upgrade Mission

Sono state introdotte nuove missioni per potenziare il personaggio di Shallot, una di queste ovviamente è portarlo a livello 3.000. Sbloccando le missioni si possono ottenere svariati Chrono Crystals. E' stato anche sbloccato Shallot Super Saiyan livello 2 che si può ottenere completando la storia principale del Book 5 Part 4.
Dragon Ball Legends è un videogioco per smartphone per i dispositivi iOS e Android. Il gioco è strutturato per combattimenti 1 vs 1, si ha la possibilità di avere una squadra di tre combattenti. Durante il combattimento si hanno a disposizione 4 carte, ogni carta rappresenta una tecnica di difesa o di attacco. Durante il combattimento si possono ottenere le 7 Sfere del Drago, una volta riunite è possibile attivare il Rising Rush.
Tags: